BREATHE more…
STRESS less
Kids Emotional Wellness Lessons + Yoga =
A Powerful New Beginning
Watch the video to meet Mrs. Frizzi and learn why she created Powerful You - the proven school counseling program that has helped over 10,000 children by empowering educators to combine social emotional learning (SEL) with yoga. By combining these two powerful practices in the classroom, students will:
increase focus

decrease stress

improve connection

develop self-awareness
Teaching children coping strategies BEFORE conflicts occur gives students the confidence they need to be independent problem solvers. How do you do it? We make it EASY through our complete & proven Powerful You educator tools which include:
Free online resources, blogs and videos

Educator Cards ( 8 1/2 x 11 laminated pictures with stories)

Powerful You Primary (Grades K-1) and Powerful You (Grade 2 - Adult)

Ready to get started? Let's begin with learning the specific skills children develop through the first part of the Powerful You program - Breathe & Stretch. Or, if you're a School Counselor, click the button below to learn more about Powerful You! for School Counselors?
Children Develop Important Life-Skills through Social Emotional Learning (SEL)
Self-Discovery
Whether this book is used as an independent journal or a group discussion tool, children will discover freedom of expression by safely sharing thoughts and feelings.
Social Skills
Children will learn valuable social skill tips and problem solving guidelines that have been practiced and used by other children.
Confidence
After memorizing the "positive self- talk" that corresponds with each story, children will call upon these powerful phrases during challenging times in their lives.
Stress Reduction
By practicing "breathe and stretch" exercises, children will learn the importance of deep breathing through difficult times to enhance relaxation.
Powerful You: A Comprehensive Life Guide Created For EDUCATORS & FAMILIES
THE POWERFUL YOU BOOKS
Finally, a book that encourages children to talk about their feelings, friendship issues, school struggles, dreams, and so many other important growing up concerns! These 26 easy-to-use lessons will give children the opportunity to self-reflect while learning important social skills. You can use the Powerful You book or also use the Powerful You Educator cards which are 8.5 x 11 full color flash cards that can be used to accompany the book. We have Powerful You Primary for Grades K - 1 and Powerful You for Grades 2 - Adult!
LEARN MORE ABOUT THE BOOK for Grade 2 - Adult:
Powerful You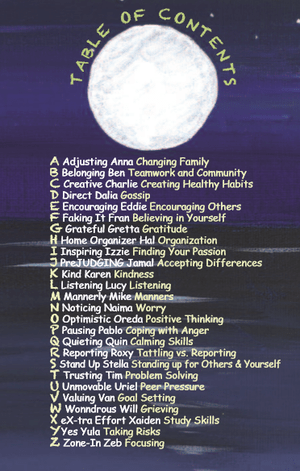 Powerful You (Grade 2 - Adult), A Comprehensive Life Guide for families, educators, therapists, or anyone working with youth (ages 7-11).
This counseling resource is a colorful, easy-to-use resource book consists of true stories told by classroom children from A-Z. Each lesson includes a powerful affirmation, self-discovery journaling questions, and a variety of inspiring activities/tips for children. Children will also learn valuable breathing and stretching exercises to combat stress.
Friendship, divorce, bullying, grieving, problem-solving, teamwork, peer pressure and self-confidence are just a few sensitive school/home issues discussed in Powerful You.
These stories and activities will empower children to create the life they want, regardless of what has happened to them. Everything they need to shine is already inside! Encouraging children to discuss these issues together will allow more teaching time and less time on classroom behavior problems. Learn more about using Powerful You as an educator resource, follow the simple educator directions.
LEARN MORE ABOUT THE BOOK for Kindergarten - to Grade 1:
Powerful You Primary
Powerful You (Grade K - 1) is a elementary school counseling resource tool that educators and families use to teach 26 social skills for SEL. These storytelling lessons engage the brain by including role-playing, movement, thinking maps, games, and positive self-talk. Educators will recognize these 26 A-Z Powerful You kids such as G - Goodsport Grady who pitches in and shows teamwork. Other lessons include honesty, independence, self-esteem, responsibility, taking turns, waiting to speak, ignoring distractions, and many more.
Educator & Family Resources
REQUEST A BREATHE & STRETCH EDUCATOR
Workshop
Want to learn how to bring the real life results of Breathe & Stretch to your classroom or school? We offer training workshops for counselor & teacher groups, conference attendees and even entire school districts!
Meet the Kids from Powerful You
If you are looking for elementary school or middle school counselor lesson plans or activities, you've come to the right place. Meet the kids from Powerful You! Each of the stories in Powerful You are inspired by a real life child who Mrs. Frizzi encountered in her over 30 years as an educator. Meet the kids, learn more about their stories and access free resources as well as recommended educational products.